As you probably know, there are a number of distinct differences between residential and commercial kitchens in Newton. For example, commercial kitchens have more advanced equipment and tools, and they are required to follow strict regulations. Even with the differences, there is one thing that the two can share, beautiful epoxy floors. With this unique flooring material, both residential and commercial kitchens enjoy the same benefits.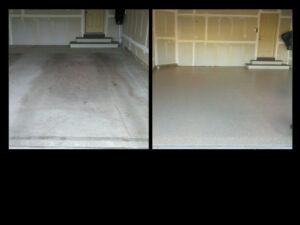 Although epoxy floors are commonly used as a garage flooring solution, they are also the perfect choice for residential and commercial kitchens in Newton. Regardless of the style and décor of the home or restaurant, epoxy is a viable solution, and for good reason.
To start with, once epoxy floors are applied, they cure. With that, they become incredibly solid and hard. Although this is great for homes with large families, it is especially beneficial for busy restaurant kitchens. This type of floor will easily withstand daily use and abuse that comes from heavy foot traffic, dropped items, liquid spills, and more.
Another benefit of epoxy floors shared by residential and commercial kitchens is the fact that these floors are easy to clean and maintain. Because the surface is smooth, dirt and debris, as well as stuck-on food particles, come off easily. In fact, epoxy is stain resistant so the floors will look gorgeous day after day. Typically, all these floors require is sweeping as needed and occasional damp mopping.
One benefit that is increasing the popularity of epoxy floors in commercial and residential kitchens is that this material is non-toxic. As an environmentally-friendly flooring solution, you have the opportunity to do your part in improving the environment while providing family and guests with a safer place to eat. Considering all of the shared benefits of epoxy floors, it is easy to understand why they are now considered one of the best options available today.