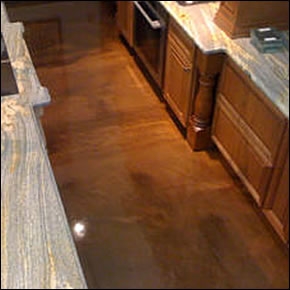 Although Milton, Massachusetts, only has a population of 27,000, it is just 19 minutes from the big city of Boston. That means that if you own a retail shop here, you need to do something to stand out so that customers near and far prefer your business over others. Even in a small town, competition among retailers is fierce.
People will decide to enter a retail store by what they see from the outside. Considering that the floor is the most visible part of the store, you want something unique and enticing. Among the various options, metallic epoxy floors are perfect. Formulated with flecks of color, or just silver or gold, you can draw the attention of passersby.
Along with their beauty, metallic epoxy floors offer a host of benefits. For instance, you want a flooring system that stands up to daily foot traffic, meaning they will not wear, discolor, crack, and so on. Because epoxy is resistant to moisture, abrasions, impacts, oil, grease, stains, and more, it is an obvious choice.
Metallic epoxy floors last a long time. Unlike other flooring solutions that begin to show signs of wear and tear, these will stay beautiful, probably as long as you own the Milton retail shop. Best of all, you can keep them looking new with little maintenance and only sweeping and damp mopping as needed.
If you want to make a significant impact, you can have a professional installer apply metallic epoxy in unique ways. For instance, you can choose a few flakes for the main floor area and then a denser quantity around the borders or as subliminal lines that guide shoppers to displays of new or clearance merchandise. With a broad range of colors, you can go with a single color or have the installer apply several to give your Milton retail store a one-of-a-kind aesthetic.