In Newton, owners of fitness centers understand the importance of providing customers with excellent service, cutting-edge equipment, incredible workout programs, and more. In fact, most of them have come to realize that even the type of athletic flooring system matters. For that reason, some fitness centers now feature epoxy coatings, which perform exceptionally well in demanding environments.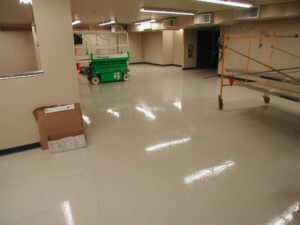 If you have a fitness center in Newton or plan to build one, you will never go wrong choosing epoxy coatings. Whether on a basketball court, squash court, or handball court; in a room with weights; or even around an indoor or outdoor pool, this concrete coating outperforms many others.
One of the most attractive benefits of epoxy coatings is their ability to stand up to daily use. Because epoxy is an incredibly robust and durable option, it will perform well regardless of where you have it installed. This type of flooring is also long lasting, which means you do not have to worry about replacement for a long time.
There is the cosmetic aspect of epoxy coatings, as well. Instead of a flooring system in your fitness center that looks dull and boring, a professional installer can add beautiful colors and create unique patterns. After having the new flooring installed, you can expect its aesthetics to impress even your toughest customer. Even if you prefer to limit customization to stripes of color or simple designs, people will enjoy spending more time at your fitness center and gladly help spread the word.
You can even have epoxy coatings installed in the men's and women's changing areas and restrooms. While other flooring systems deteriorate when exposed to steam and water, these coatings do not. Instead, the floors will remain gorgeous and structurally sound. Since these coatings are highly resistant to moisture and stains, they also work great for a juice bar or snack area.