Garage floors are the most beat-up floors of the house. They not only endure car weight and traffic, but also serve as a place for messy activities and an extra storage space for many homes. These are enough reasons to invest in a good garage floor that will last a long time. Concrete garage floors are tough but not indestructible. However, coatings can go a long way in adding to the strength and durability of the flooring system.
Garage floor repair experts in Boston use different materials to make sure that the concrete will be able to withstand the extreme abuse it endures from day to day. The tools of the trade are equally as important because it takes the right tools to apply the materials and finish the concrete properly.
The most common materials needed to place concrete garage slabs and are the same tools used to repair other types of concrete floors as well. They include:
Hand trowels and fresnos – These are used to finish the concrete and produce a smooth surface that compacts the concrete underneath, increasing the density of the flooring.
Edgers – These are trowels with a rounded edge that give concrete a subtle curve around its perimeter to avoid chipping.
Groover – This is used to create joints in the concrete with the purpose of controlling the site of possible crack formation due to concrete shrinking and effects of environmental conditions.
Screeding tools – These are used to create a plane and level surface of quality-grade concrete through removing excess concrete on top of the flooring. This process is done before finishing.
Once your concrete has been placed and finished properly you can then call us to make it look and perform great with an epoxy coating system.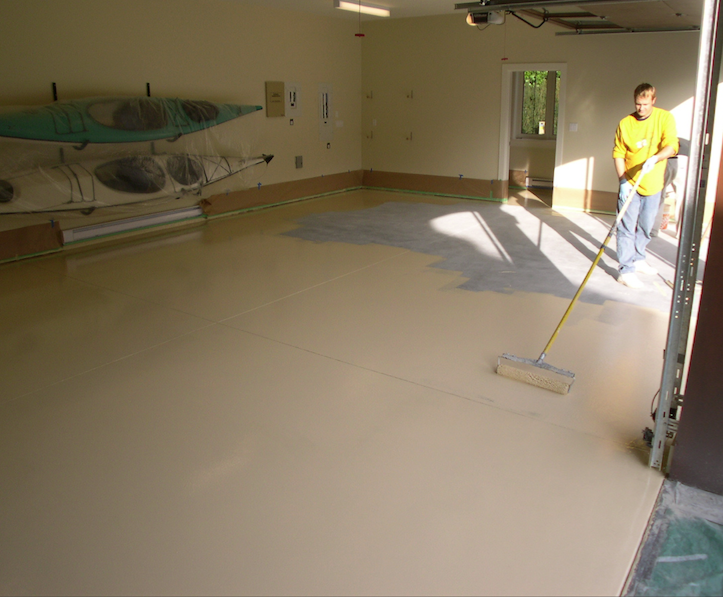 If you entrust your garage to Garage Floor Coatings of Boston, you're assured that our experts have all the right tools to make your garage look perfect. With our Platinum system, you're also given a lifetime warranty. This system includes the 3 Component Polyhybrid System with a double layer of Polyhybrid Clear Coating and UV-protected vinyl chips. The Platinum System comes in different colors and chip sizes, depending on your preference.