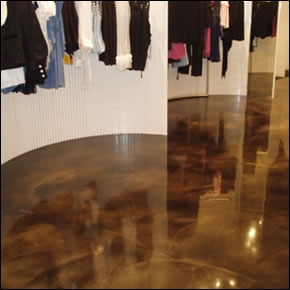 Boston is an amazing city with varied architecture. Home and business styles include Greek revival, Georgian, colonial revival, post-medieval, federal, gothic revival, Italianate, Queen Anne, Tudor, country, contemporary, and high-rise. Regardless of the architectural style, stained concrete floors continue growing in popularity in Boston.
Stained concrete floors look incredible in both traditional homes and trendy lofts, as well as in businesses, such as malls, retail stores, car dealerships, restaurants, and medical buildings. Although water-based stain is an option, more people tend to gravitate to acid-stained concrete, which offers a list of unique benefits.
The popularity of acid stained concrete floors in Boston has coincided with a burst of innovative coloring materials. This allows home and business owners to create virtually any aesthetic. Sometimes, this coordinates with the architectural style of the structure. Other times, it is based solely on personal preference. Ultimately, the outcome is a one-of-a-kind floor that cannot be replicated.
The acid stain not only permeates the concrete but infuses with it. When that occurs, a fascinating reaction occurs that creates a unique colored pattern. That means that acid stained concrete floors in 10 homes or businesses created using the same color(s) of stain would all be original from a design perspective.
The fact that acid stained concrete floors are easy to clean and maintain also helps boost their popularity in Boston. Especially for businesses with high-traffic areas or homes with children and pets, being able to clean up messes with a broom and damp mop is a huge advantage over other types of flooring systems.
The other reason for the increasing popularity of acid stained concrete floors in Boston is the abundance of patterns that can be scored or cut to create incredible designs. Overall, this flooring system offers endless possibilities that Bostonians love.