Just because Milton's population is only around 30,000 does not mean that retail shops are not in competition with one another. In fact, as a smaller city, competition if probably quite intense. For retail store owners, metallic epoxy floors are an excellent way to gain an edge and promote better buying.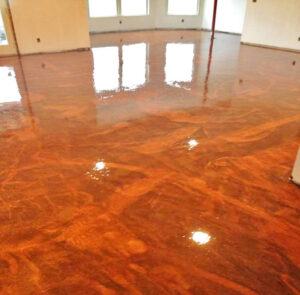 Typically, epoxy floors are the preferred flooring system for industrial buildings, as well as residential and commercial garages. However, they have become a popular option for retail store owners as well. Especially when metallic flakes are added, the floors have unique character.
Because metallic epoxy floors involve a treatment that is applied to concrete, the floor ends up with an additional layer of protection. For stores that see a great deal of business, this type of floor can easily withstand daily use and abuse without appearance being compromised. Ultimately, you have a store where people enjoy shopping.
There is yet another reason for choosing to have metallic epoxy floors installed in your retail store: As you know, both rain and snow impact people in Massachusetts. While epoxy is already non-slip, adding sand quartz enhances this benefit. Therefore, even on bad weather days, your customers will have a safe surface to walk on, which encourages them to shop longer and buy more.
Metallic epoxy floors can be designed in such a way to guide customers to different areas of your store. For example, you can have epoxy poured in a line pattern that leads to main areas or displays, or if you prefer, different colors can be used that naturally grab attention. In both instances, customers subconsciously follow where the designs and colors lead.
You can have metallic epoxy floors designed to complement your specific brand. This cohesion will make your store appear more professional and, therefore, more enticing. Whether you want a subtle or bold look, metallic flakes add a rich luster and upscale feel to the store.