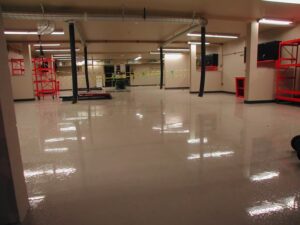 Regardless of the product made or the processes used, manufacturing plants in Needham pose risks not only to employees and outside visitors, including suppliers, vendors, and inspectors. To prevent accidents in this type of environment, owners and operators must follow strict governmental and industry guidelines. However, they can also make choices outside of mandates that enhance overall safety.
An example of this is installing the right type of flooring system. Because most manufacturing plants in Needham have concrete surfaces, the options using decorative concrete are virtually endless. These coatings enhance the aesthetics inside of the facility, which helps bolster employee morale and productivity, as well as safety.
Today, many Needham manufacturing plants have epoxy installed. From an appearance standpoint, owners and operators can change the floor's aesthetics by having color, additives, and aggregates added to the formula. As for safety, epoxy is naturally slip resistant. Therefore, if someone accidentally spills liquid, whether water, soda, oil, grease, or even chemicals, there is less risk of a person falling and sustaining an injury.
Epoxy offers another safety benefit. Because this flooring solution has a slight degree of cushioning, it provides workers with a more comfortable surface for walking and standing. People who stand on the job for long periods or move around the plant to perform duties can experience muscle fatigue. However, the cushioned surface reduces this risk, making the environment more enjoyable, which impacts productivity.
Beyond safety, epoxy provides several unique benefits not offered by other flooring solutions. As you know, even when well-organized, the environment inside of manufacturing plants in Needham can get dirty. Because epoxy is stain resistant and a breeze to maintain and clean, this floor makes the plant cleaner. It is also resistant to impacts and abrasions, meaning that even dropped tools or vehicle traffic will not cause damage. As you can see, the right flooring solution enhances workplace safety and much more.