Thanks to significant advances in residential flooring, homeowners in Milton have endless possibilities for turning any room into a spectacular space. For years, people had become accustomed to having limited options for a new floor, but today, things are very different.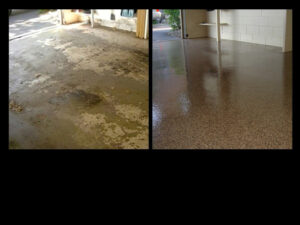 Stamped concrete is just one of many examples. With this unique decorative concrete application, a professional installer can create a floor that resembles a host of natural materials, including brick, wood, slate, tile, and flagstone. For a country-style kitchen, you might consider either brick or wood. If your kitchen has a Mediterranean flavor, both flagstone and cobblestone are excellent choices.
Another possibility for residential flooring is stained concrete. If you are tired of floors that look boring and outdated, and you want something that is different from what everyone has, stained concrete is ideal. The reason is that with this type application, the stain penetrates the concrete surface, where it reacts to a particular chemical. Stained concrete creates not only a permanent flooring solution but also a one-of-a-kind variegated aesthetic.
For something really different, a professional installer can create a residential flooring solution that consists of two types of stamped concrete. As an example, the expert can blend in stamped tile with stamped wood to create a distinctive design or border. Another option is to make the primary floor area appear like river rock with stamped cobblestone added to give the floor character.
You might also consider polished concrete for the residential flooring at your Milton home. Because polished concrete produces a mirror-like finish, the application is gorgeous. Available in a wide range of colors, patterns, and textures, the installer can create virtually anything that you want. The bottom line is that you have multiple options that can transform an otherwise boring room into a true masterpiece that will make you the envy of everyone.