In Boston, it is important that you choose the best commercial coatings based on specific applications. In other words, the type of coating that you want for warehouse flooring would probably be different from what you need in a high-end restaurant. The reason for the word "probably" is that some coatings are so versatile that they look and function great regardless of the application.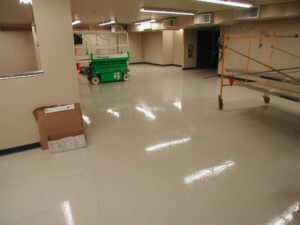 Epoxy commercial coatings are a perfect example of this. In fact, epoxy ranks as one of the best flooring solutions on the market. This material is durable enough for warehouses, manufacturing plants, and so on, yet beautiful enough to be a top consideration for retail stores, restaurants, law firms, and more.
Whether you are interested in epoxy or some other flooring solution for your Boston business, there are several factors to consider when comparing commercial coatings. Following are a few tips to help you through the decision-making process.
Environment – You need to think about the environment. As expected, an extremely harsh environment requires a durable flooring solution, whereas, for an environment that is not harsh, you may have a few extra options. If grease, oil, chemicals, and various other potentially harmful substances are in the environment, take that into account when choosing the right flooring solution.
Aesthetics – Depending on the application, the floor's aesthetics may be of extreme importance. If so, you want to consider commercial coatings that you can have colored or textured to create unique personality and character.
Care and Maintenance – Especially when dealing with heavy foot traffic, you want to look at commercial coatings that can withstand daily wear and tear, as well as easy to clean and maintain. That way, the person responsible for keeping the floors in pristine condition has a better chance of succeeding without investing as much time and effort.