Newton, Massachusetts, is a growing city with a population around 90,000 people. Because of that, businesses are facing increased competition, which means they have to make decisions that will help them stand out to both existing and potential customers. One particular change is having a positive effect on how businesses are perceived and on sales. Epoxy floors are in high demand because they are unique, beautiful, strong, durable, and long lasting.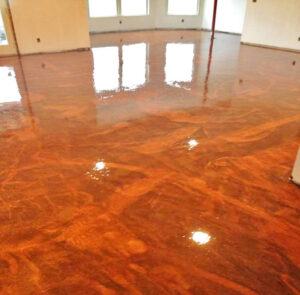 However, some businesses have discovered an even better solution: metallic epoxy floors. This type of flooring system offers the same benefits as standard epoxy with a little more pizzazz. This flooring solution uses a low-yellowing type of epoxy with added metallic pigments. Depending on how much you want the metallic flakes to stand out, the installer can add a low or high quantity.
Whether applied using a brush or roller, the flakes in metallic epoxy floors separate, gather, twist, and turn. As a result, the flakes are capable of reflecting light from various angles. For businesses that choose this system, the floor is gorgeous anytime day or night. For people walking by, the glitter of the floor is an instant attraction.
Along with the obvious benefit of beauty, metallic epoxy floors are popular among businesses in Newton for additional reasons. For one thing, these floors are customizable, so instead of every business having the same cookie-cutter floor, each is unique. These floors are also slip resistant, making them ideal for retail stores, museums, art galleries, restaurants, and bars, especially when people visit during rain or snow.
Metallic epoxy floors are resistant to chemicals and are antimicrobial. Because of their seamless design, they also have a clean, professional aesthetic, which is perfect for law firms, CPA firms, and other professional organizations. All of that coupled with the fact that these floors are available in many gorgeous colors, and business owners find them impossible to resist